The Special Forces 1 Sleeping Bag can be used on its own or bought as a set of two, which can be zipped together to create an extreme bag for temperatures -15°C. Available for purchase as a whole system or can be built up from the various Special Forces sleeping bags.
How does the complete system work?
The Complete System gives you the Special Forces 1 Bag for use in above freezing temperatures and the Special Forces 2 Bag for use in temperatures right down to -10°C. Then, when you're in extreme conditions, you place the Special Forces 2 Bag inside the Special Forces 1 Bag and join them together with the extra zip baffle, so you're protected in conditions right down to -20°C. Ingenious!
When joined in this way, you retain the convenience of closing and opening with one central, quick release zip. Both bags have a reinforced foot area and come with a stuff sack to keep everything together.
Paratex Steelplate Outer Fabric (100% Nylon)
Paratex Steelplate is used on the cream of Snugpak's products giving a great balance between aesthetics and performance. Paratex Steelplate is lightweight, tough, highly breathable, high wicking, windproof & water repellent.
Paratex Light Inner Fabric (100% Nylon)
Paratex light is lightweight, highly windproof, water repellent fabrics, exceptionally breathable and able to wick moisture away from source.
Reflectatherm Inner Fabric (100% Polyester)
Reflectatherm, this metallised fabric is designed to retain heat and warmth. A highly breathable material, which adds little to the weight or pack size.
Softie Premier Insulation (100% Polyester)
Randomised fine filament fibres create extra voids and loft to trap more warm air, whilst keeping the same weight as a standard insulation.
MultiCam Outer Fabric (100% Nylon)
The MultiCam® pattern was developed to effectively limit the visual and near-IR signature of a person operating across a very wide range of physical environments and seasons. After many successful evaluations, after being proven in combat, and after becoming the officially issued pattern of the US Army for all Afghanistan operations in 2010, MultiCam® is the proven multi-environment concealment solution.
Features
Weight: Standard - 1200g / 42oz, Extra Long - 1450g / 51oz
Comfort Rating: 5°C / 41°F
Low Rating: 0°C / 32°F
Pack Size: 16cm x 16cm / 6" x 6" (Fully compressed)
Extra Long Length: 250cm (220cm +30cm)
Outer Fabric: Paratex Steelplate 100% Nylon
Outer Fabric, Multicam® Option: Paratex® Micro 100% Nylon
Inner Fabric: Paratex Light 100% Nylon
Inner Fabric 2: Reflectatherm 100% Polyester
Insulation: Softie® Premier 100% Polyester
Zip together with the Special Forces 2 to make a -15°c sleeping bag
No stitch-through construction to reduce the risk of cold spots
Exclusive Softie® Premier insulation
The internally reinforced foot allows you to keep your boots on
Elasticated drawcord-adjustable hood
Two-way quick-release centre zips with insulated baffle behind
Anti-snag zipper webbing tape
Supplied with a compression stuff sack for easy compact carrying
Hanging tabs on the foot to allow easy airing and drying
Origin: Made in the UK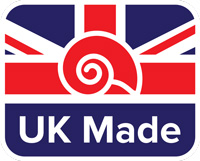 Proudly Made in the UK
Please note this product is made to manufacture and if shown as "Available for Order" will take an additional 10 working days from time of placing the order. If shown as "In Stock" the item is available for next day delivery.
Zips
A left-handed sleeping bag has the zip on the left when the user is in the bag and lying on their back. Most right-handed people therefore find a left-handed bag easier to unzip when inside the bag.
Stuff Sack
All Snugpak sleeping bags are supplied together with a compression stuff sack. The pack size dimensions where shown for each sleeping bag are for the fully compressed size, which involves compacting the bag itself as it is fed into the stuff sack and then using the compression straps and some physical exertion to reach the minimum size.
Snugpak Washing
Snugpak do not recommend using a top loader washing machine with agitator because the agitator may damage the fabric or insulation. A front loading washing machine or hand washing is considered appropriate for washing Snugpak products.
Snugpak recommend that you wash any of their products on a LOW temperature setting with non-bio liquid detergent and no fabric conditioner.
Drying Snugpak products on a washing line is recommended. They can be tumble dried but only on a LOW setting otherwise the fabric may melt.