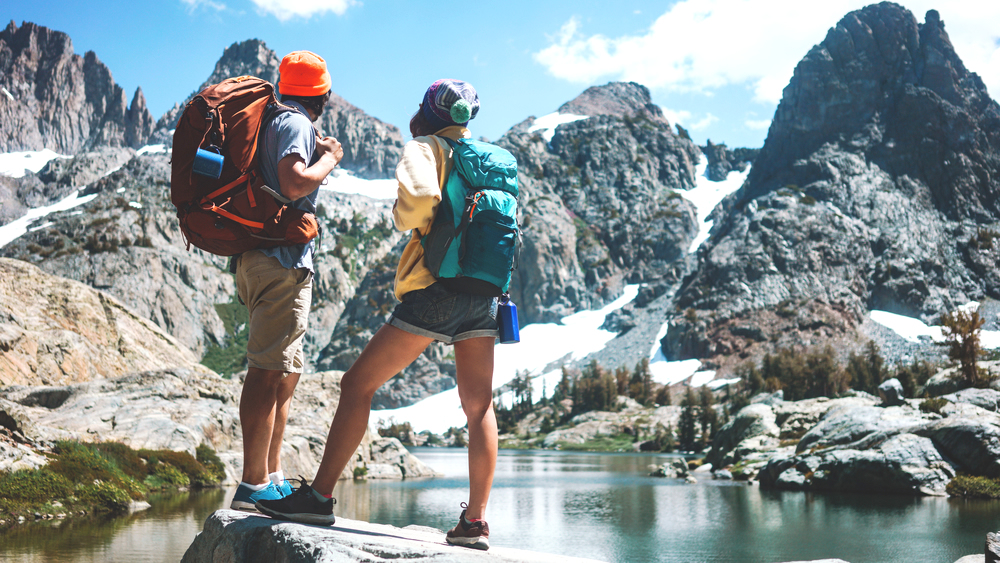 Finding the right backpack is crucial to comfort and convenience throughout hikes, climbs, travels and more. There is a myriad of different options available, so choosing the right backpack can be a little overwhelming, but the best backpack will have to be suited to your activity and trip-length. This beginners guide will help you choose a backpack with the correct volume and features to ensure your purchase is well-worth the investment.
One of the first steps in choosing a pack is deciding on its capacity. This will depend on a number of different factors. First, what type of backpacker you are: whether you want to take the bare minimum for survival or like the comfort of some luxuries. Second, how long your trip is. Third, the weather: colder climates will require more layers and thicker clothing, thicker sleeping bags and appropriate tents.
Many packs will show a base volume capacity plus the extra capacity available in the bag, such as 60L + 15L. This means the bag can hold 60L in the main compartment plus 15L of extra capacity that is available through expandable sections and pockets. Here's a rough guide to the volume you should expect to take for a number of different trips: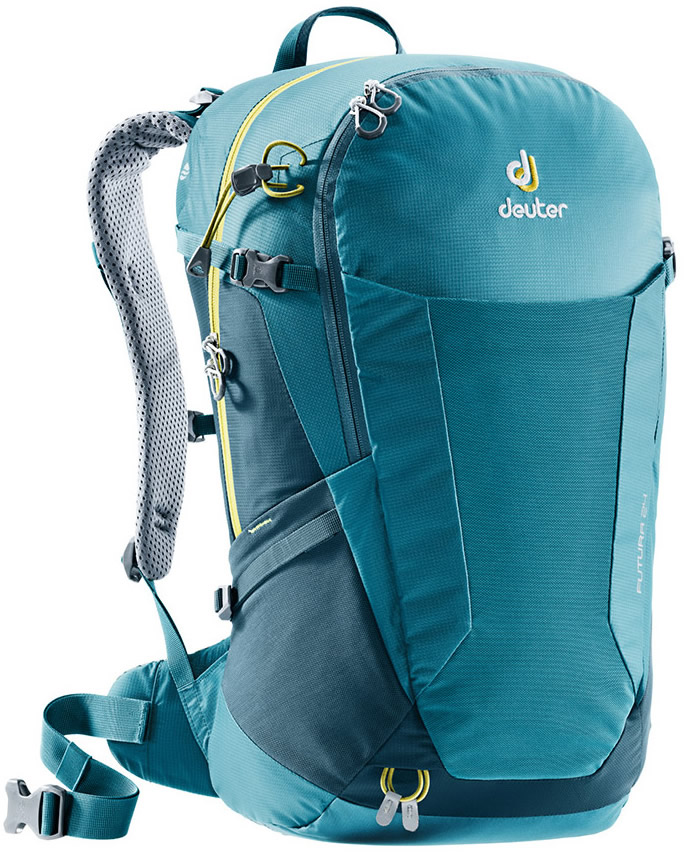 Day trips – 15L-30L
Perfect for urban explorations, picnics, spontaneous hikes and climbs and hand luggage, day trip packs will arm you with what you need for the day. More volume will allow you to pack in camera gear or extra layers in case the weather changes... not a bad idea if you're based in the UK.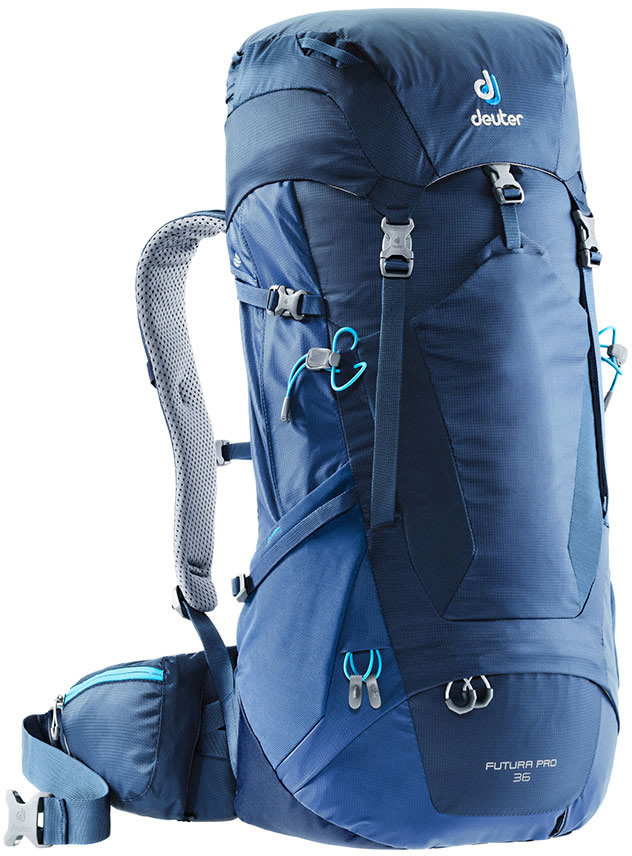 Weekend (1-3 nights) – 30L–50L
These packs are designed to give you the space you need for overnight hikes and quick weekend adventures. If you're embracing a minimalist philosophy they may also work for multiday trips, but be aware that minimalist backpacking requires self-discipline and careful planning, but the reward of being light on your feet is often worth it.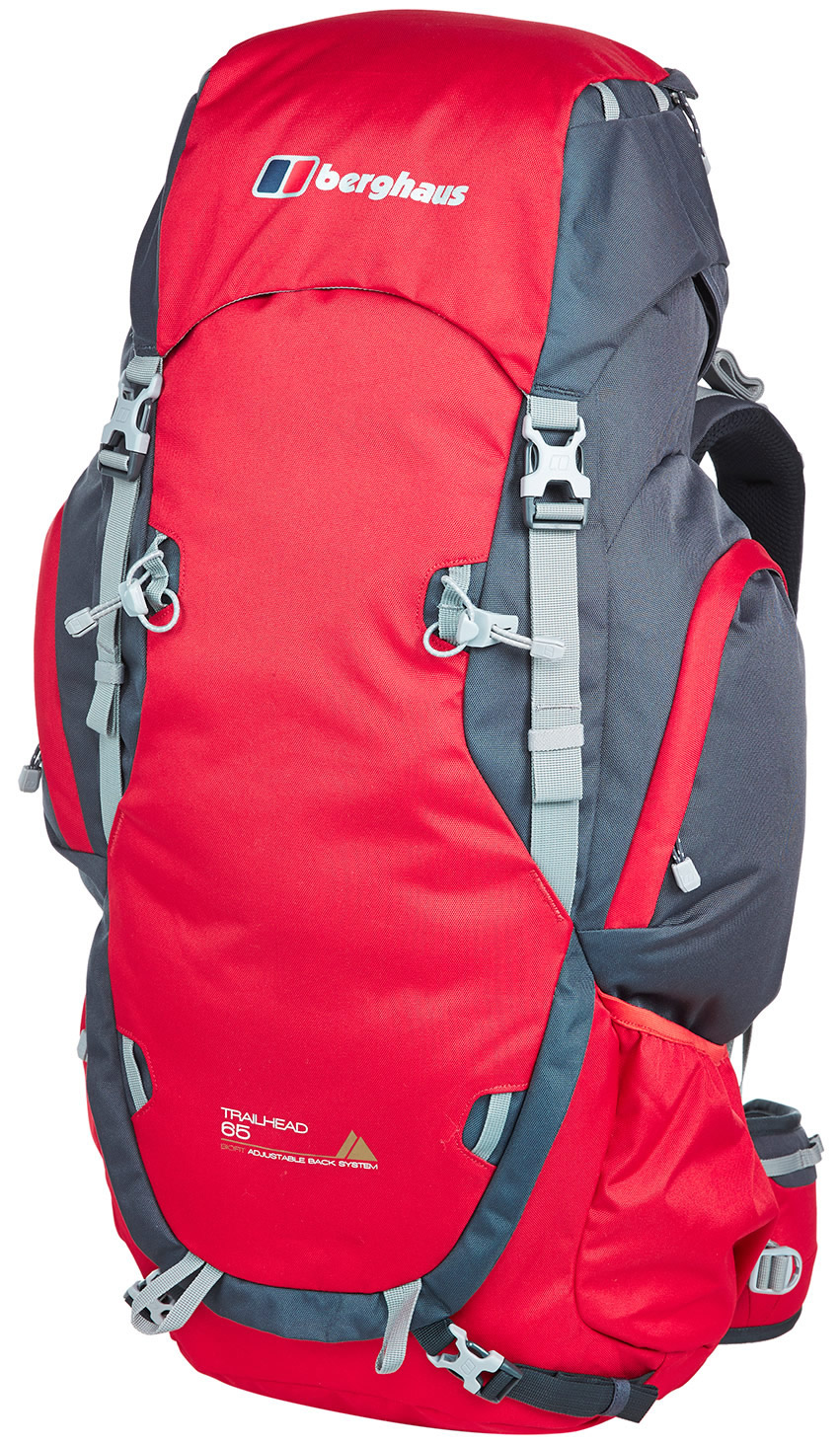 Multiday (3-7 nights) – 50L-75L
These are some of the most popular types of backpack, giving you the space to adjust to multiple weather conditions, bring substantial food reserves and the flexibility to bring a range of equipment for trips as long as a week.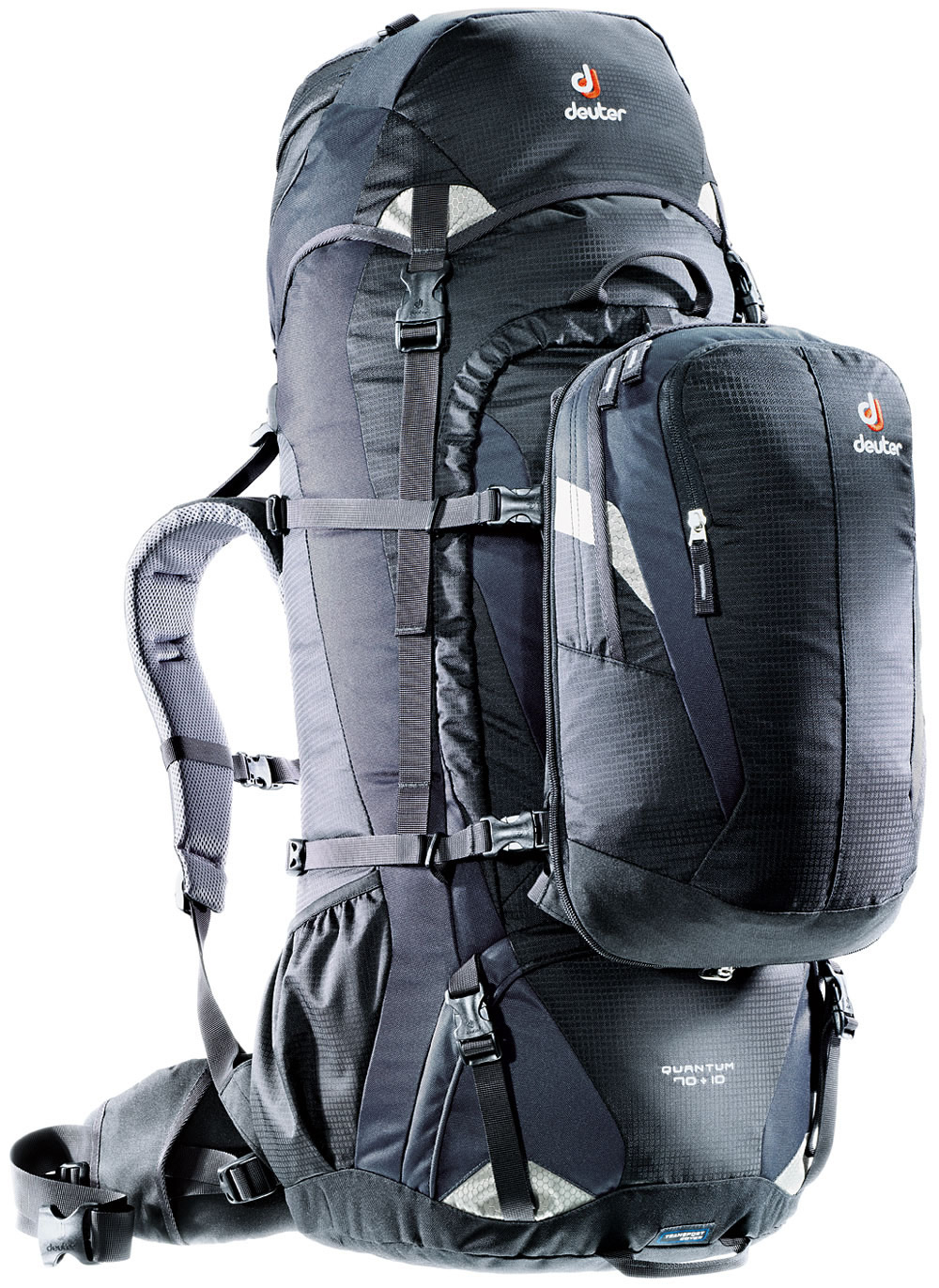 Expedition (8+ nights) – 75L or more
These backpacks are aimed to equip you hardcore adventurists with everything you'll need to sustain yourself for long-periods of time in adverse conditions without resupplies.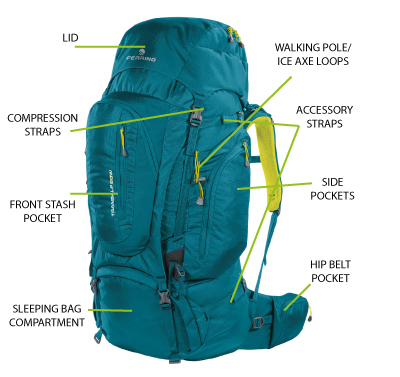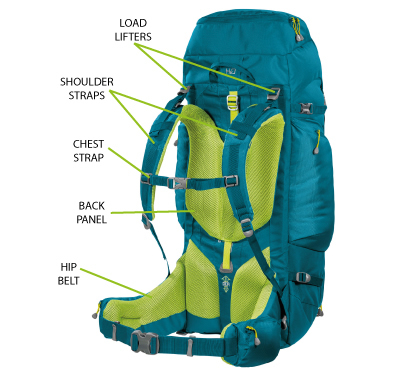 The Frame
Frame components: Frames typically consist of two aluminium or composite stays, also known as flat bars, running parallel to each other that can be either internal or external to the back panel.
Internal frame backpacks are the most common frame design for contemporary backpacks, providing rigidity and helping to transfer the load onto the hips. These designs encourage greater stability by keeping the pack close to the body.
External Frame Packs have the frame on the outside of the backpack. As a result, packs are further away from the body and so are less stable than internal frame packs. However, they allow for more space between your back and your body so allow for greater ventilation.
A framesheet is usually made of plastic and is located behind the back panel to provide further rigidity.
Frameless backpacks are designed for those who opt for ultralight configurations and are prepared to lose the benefits of frames to this end. This set-up may be attractive to climbers - where weight is crucial.

Belt and straps
Hip belt: The majority of a packs weight should be on the hips. Lighter loads have less padding, and as the weight of the load increases hip belts tend to have heavier padding and more rigidity to provide maximum support. However, climbers and skiers may opt for a minimalist and flexible hip belt to maximise their freedom of movement.

Shoulder straps: As with the hip belt, thick padded straps will provide comfort when carrying heavier loads but thinner straps will offer more flexibility. Mesh straps are often used for better ventilation.

Load-lifter straps: these adjustment straps are essential for carrying loads comfortably. Load-lifter straps attach the upper portion of the shoulder straps to the top of the pack frame, and should form a 45° angle between the two. This allows you to lean the pack away from your upper body while the weight remains centred on your hips.

Chest strap: This is located just above your sternum, and connects the shoulder straps to keep them in position to improve the stability of the pack.

Ventilation
The back panel of a pack – the part that presses against your back – needs to be sufficiently cushioned to protect your back from the contents of the pack while also protecting against back sweat. Some designs allow your back to rest against a highly breathable 'suspended mesh back', while others build channels to promote airflow. Both designs can be effective.
Compartments and pockets
Some backpacks - usually alpine or climbing orientated - can be simple and streamline with just one main compartment, while others have multiple places to stash clothing and gear.

Main compartment: This is the largest space in the pack where most your clothing, your tent, stove, food and other gear can be stored. Many backpacks have zipped front panels as well as access from the top, so you don't have to unpack everything to get to those items at the bottom of your pack. If you'll be dipping in and out of your pack frequently this is an important feature to look out for.

Spindrift Collar: This collar extends from the top of the main compartment to allow you to pack extra gear beyond the base level volume capacity.

Top lid: A pocket for easy-access storage located at the top of the pack. It's an area that can hold a surprising amount of gear and is sometimes removable to allow use as a daypack.

Side pockets: Usually constructed from stretchable material, side pockets are used for storing water bottles, tent poles or other loose or awkward objects.

Front Stash/ Shovel Pocket: A quick-access pocket that allows you to stash away waterproofs, maps, and other medium-sized items.

Hip belt pockets: Quick-access pockets that are great for snacks, cameras, energy gels and other small essentials.

Sleeping bag compartment: Compartmentalising clothing and gear can make packing much easier. Many packs will have a base section which is typically used to store sleeping bags but can be used to stash any items you'd like quick access to.

Roll mat/ accessory straps: Most packs will have straps on the front of the bag to allow for storage of large items such as roll mats or tent parts.
Additional Backpack Features

Pack fabrics: Nylon and polyester are the most popular materials. Tough and durable fabrics will offer some water resistance, and all fabrics can be coated with a water repellent coating, but to protect from the rain a rain cover is a far more practical option.

Rain Cover: A rain cover is essential to ensure all your clothing and gear stays dry even when the weather doesn't.

Hydration compatibility: Many packs have an interior sleeve designed to hold a water bladder. These backpacks will also have a hydration port to accommodate a rubber drinking tube from the bladder.

Ski/Snowboard Compatibility: Side compression straps can be used to carry skis and sometimes snowboards.

Attachment Points: Bungee cords, walking pole/ ice-axe loops or daisy-chains allow you to clip on extra clothing and gear to the outside of the pack. These can dramatically increase the capacity of the backpack but will reduce stability as things can hang far away from your body.

Compression straps: These can be found along the sides of the backpack to compress the contents toward the body in order to reduce the volume of your pack and improve stability.
Choosing the right backpack is all about you: your size, your activity and the length of your trip. After you've considered these factors and read this guide, you should have a good idea of what to look out for. From there, you'll need to find a pack that fits your body – take a look at this guide to find your size.